What if I tell you that there is a place in India where you can drive at 300 kilometers per hour. I know you are aware about the speed limit in India. But India now has NATRAX – National automotive test tracks in India. Location of NATRAX HUB is Indore, Madhya Pradesh. This place is no less modern than a Ferrari test track or a Porsche test track in the world. You can also test drive race cars on this automobile test track in India. In this article I will cover everything that you would like to know about this automobile testing facility.
What is so special about NATRAX
Before you start talking about the features of automobile test tracks, you should know that this is one of its kind unique facility. Earlier different manufacturers had their own testing facilities but this one is not linked with one single manufacturer. That is why it is special. You can note down some points that make it different from the regular automobile testing tracks.
Longest Automobile Testing Track in Asia
First of all, NATRAX is Asia's longest Track available for testing automobiles. There is no such facility available across the country. Most automobile manufacturers in India have their own vehicle testing tracks. This is a flagship project of the Ministry of Heavy Industries, Govt of India.
No Maximum Speed Limit for Vehicles
As of now there is no speed limit when you are testing a car or any other vehicle. Due to this we can know exactly about the capabilities of a vehicle. Due to this these automotive test tracks are unique in nature.
High Speed Track
The facility also has a 11.3 kilometer High Speed Track which is one of the largest automotive testing tracks in the world. This can be used to carry out development and homologation tests.
12 Automobile Testing Tracks
NATRAX Hub Indore has 12 different types of tracks for testing a vehicle speed, stability and performance. They allow testing a car for every road condition.
Automotive Testing Tracks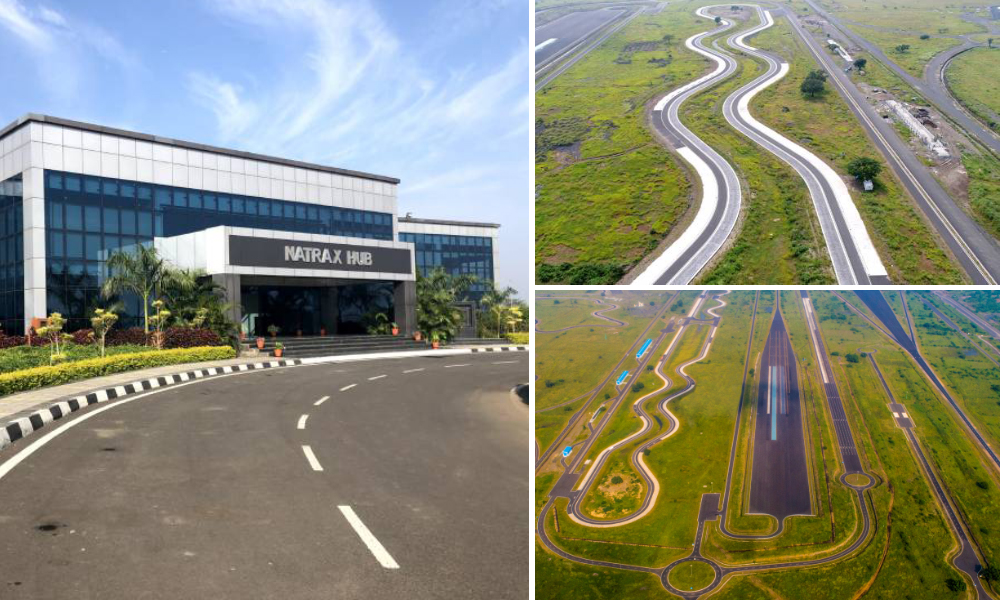 Why is this the best Test Drive Track in India?
There is a valid reason behind me saying that NATRAX is the best test drive track in India. NATRAX has state-of-the-art automotive testing and certification centres. This comes under NATRiP, a flagship project of the Ministry of Heavy Industries, Govt of India. The developers of the project followed international standards in designing the test strips.
Vehicle Dynamics Lab at NATRAX Hub Indore
NATRAX Indore also has a vehicle dynamics lab for vehicle suspension design and development. Manufacturers can use this facility for doing various tests related to vehicle stability, load capacity etc. Starting from steering testing to damper testing and elastomeric components like rubber and metal bonding everything is possible here.
Other than this there are more automobile testing labs at NATRAX that provide a variety of services.
Powertrain Lab
Services – Emission Analyzer and Chassis Dynamometer
Battery Test Systems
Services – The Electrical / Battery Test Systems provide Electrical Vehicle Car Charger, Power Analyzer, Battery Cyclers.
CAD/ CAE Lab
Services – Modeling and analysis of vehicle aggregates or full vehicle
Vehicle Instrumentation Lab
Services – Testing Pass by noise, Speed Sensor, Steering sensor, Vehicle Dynamic sensor.
This is like the beginning of a new era in the Indian automobile industry. It is good that India is improving the automobile testing facilities. As a result, the country will get better and safer cars. Additionally, automobile testing facilities like NATRAX can also keep carbon emission from cars in control.
Read our read an article on Vehicle Scrappage Policy to learn how to scrap old car.